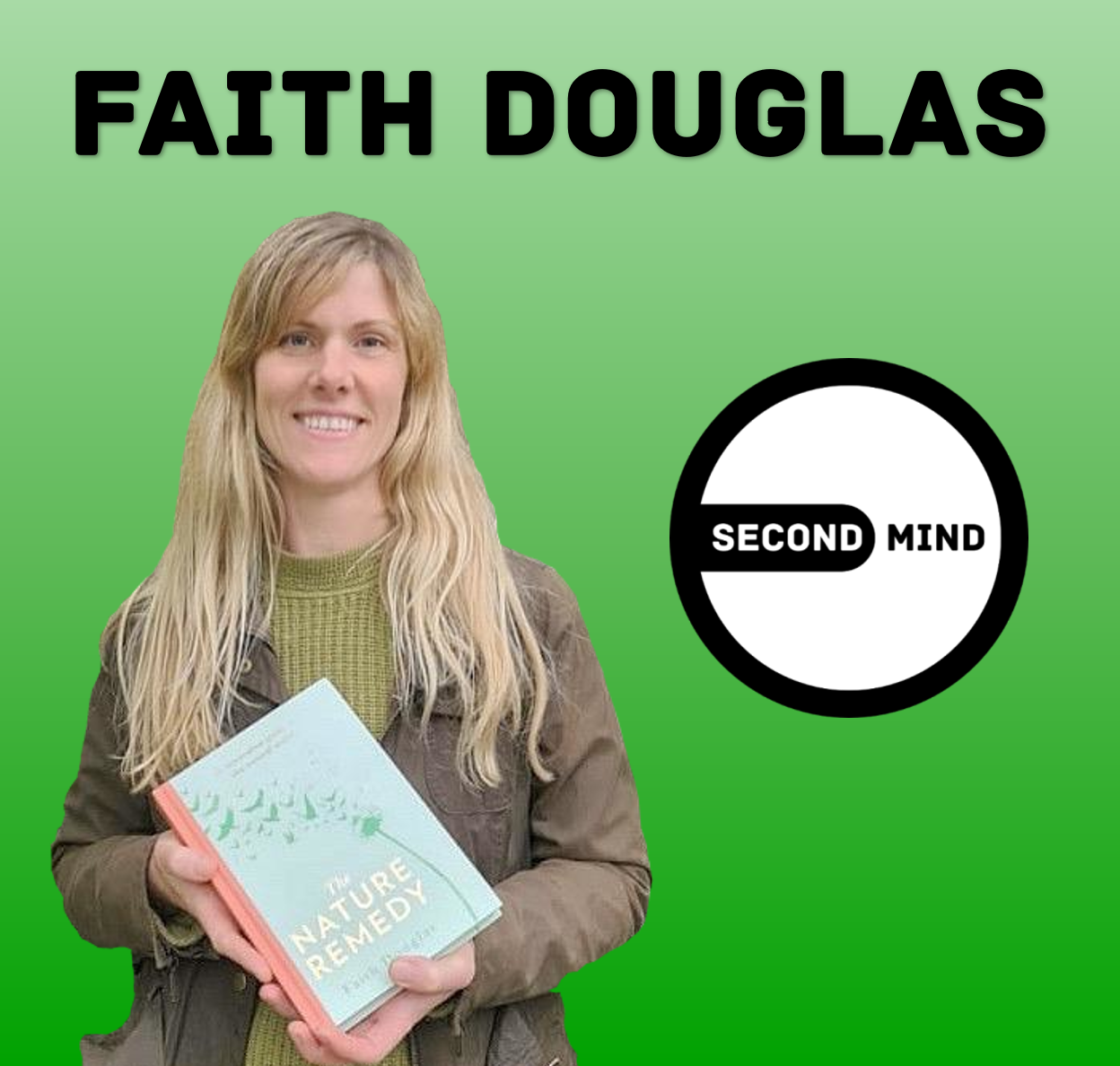 In the last 50 years, humanity has destroyed 50% of all wildlife on Earth. Currently, there's more carbon dioxide in our atmosphere than any other time in human history, causing a climate breakdown. It is clear our modern society's relationship with nature is heavily out of balance. Whilst all this destruction is occurring to our environmental life support systems, people in the UK spend an average of 90% of their time indoors, disconnected from nature. How can we value and respect something that we do not feel connected to?
Enter my newest podcast guest, the brilliant Faith Douglas, who has made a career out of helping people with nature connection, a powerful process where an individual can use their senses to mindfully engage with the elements and environments of the natural world. Faith runs forest bathing courses in the UK and she is the curator for Thorp Perrow Arboretum, helping people to enjoy a special selection of tree species. She has recently completed her awesome new book called The Nature Remedy, a guide to help anyone connect back with elements of the natural world, from the sky to the earth to the trees.  
In the podcast, Faith tells her story of how she found her connection to nature through her own personal challenges and started to work with forest bathing. She shares her tips on how to generate a connection with nature, using your senses to relax your mind and body. We cover many of the amazing scientifically-proven benefits of nature connection for mental and physical health and talk about the power of digital detoxing. The conversation also covers why a strong environmental connection is crucial to our society as a whole and features advice for those who have little or no access to nature.
Faith is so passionate about nature and shares some great tips and knowledge for enhancing your connection to our planet. Do reflect on your own connection to the natural world whilst listening. When is the last time you took a moment to really notice and appreciate the flight of a bird or a great old oak tree in your local park?       
I invite you to keep your mind open, listen and enjoy.
The mission:
Second Mind empowers you to become the greatest version of yourself and better our world. To ignite personal growth and intrigue your mind, we showcase the journeys, ideas and mindsets of inspiring people. We broadcast guests who live and think differently to create positive energy for planet Earth. Their messages will challenge your perspectives and give you the fuel to master your potential.  
Don't miss our regular episodes, hit subscribe or follow to see new releases.
FOLLOW SECOND MIND:
Facebook: https://www.facebook.com/secondmind365/
Twitter: https://twitter.com/secondmind365  
Instagram: https://www.instagram.com/secondmind365/  
YouTube (w/video): https://www.youtube.com/channel/UCuq8qBjHyQBsuzB_y4SKWoA
iTunes : https://podcasts.apple.com/gb/podcast/second-mind/id1480389830
Spotify: https://open.spotify.com/show/4IRdfj0CkzK0BeC5WUZKRA?si=HI2ZRTklTsm4AJ831pbS3Q   
Google podcasts: https://playmusic.app.goo.gl/?ibi=com.google.PlayMusic&isi=691797987&ius=googleplaymusic&apn=com.google.android.music&link=https://play.google.com/music/m/Ix6f3niy3hr6xmod664mx5lg4lu?t%3DSecond_Mind%26pcampaignid%3DMKT-na-all-co-pr-mu-pod-16
…or search 'Second Mind' wherever you get your podcasts.
FOLLOW FAITH DOUGLAS:
Instagram:  https://www.instagram.com/forestbathinguk
Web: https://www.shinrinyoku.co.uk/
Twitter: https://twitter.com/thorpperrow
The Nature Remedy book: https://www.shinrinyoku.co.uk/product/the-nature-remedy-hardcover/
https://www.amazon.co.uk/Nature-Remedy-Faith-Douglas/dp/0008331979/ref=sr_1_3?dchild=1&keywords=nature+remedy&qid=1593101294&sr=8-3