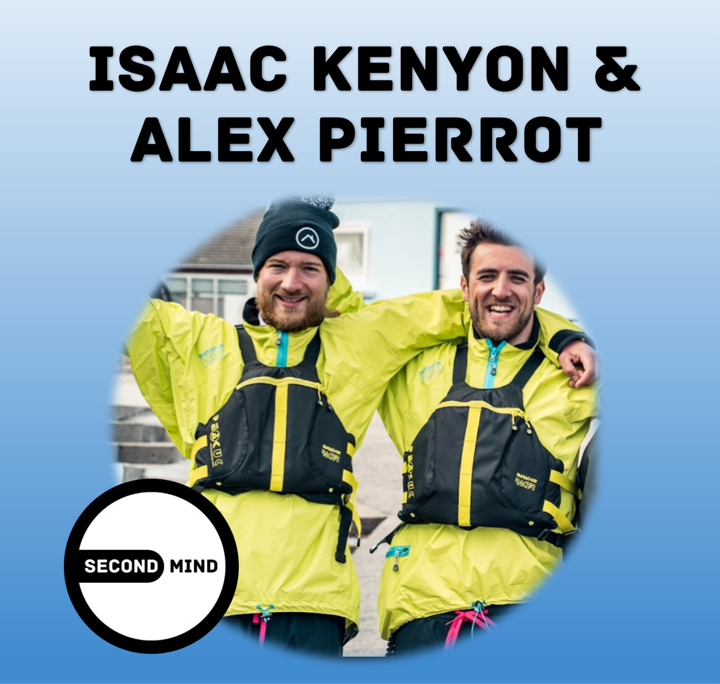 We have all been there. You glance down at your phone whilst going about your day to see another headline about that world issue that you care about. Something rises up in you, a new energy that demands action and positive change. But as quickly as this spark arrived, it dims and vanishes as you move through the rest of your day. Maybe you sometimes wonder, what if I answered the call to action?
My guests today, Isaac Kenyon and Alex Pierrot, are prime examples of individuals who have caught that moment of inspiration about a cause they care about and turned it into a positive and purposeful project that creates change. Isaac and Alex run Climate Explorers, a community interest company with the mission to highlight climate solutions, raise environmental awareness, and promote physical and mental wellbeing through eco-adventures in the great outdoors.
In 2021, Isaac and Alex were joined by 3 others to form the 'Pedal 4 Parks' expedition team and complete the world's first cycle over land and sea from Orkney at the northern coast of Scotland all the way down the UK to the Isles of Scilly. Being frustrated with the constant negative headlines surrounding climate issues in mainstream media, the team wanted to explore positive climate solutions and offer some hope by highlighting some of the great work going on in the UK to address climate change. On their adventure over land and sea, they interviewed 25 different companies, organisations, and non-profits all working so hard on ecological conservation, local community action and sustainability projects. They also raised £5000 for their main charity partner the National Parks Protectors Fund, a dedicated fund for vital nature conservation projects across the UK's 15 National Parks. Their adventure also enabled them to shine a spotlight on the great work national parks are doing to preserve and regenerate wild green spaces.
On top of all this, they even worked with a film crew to create a brilliant documentary chronicling the journey called '14 Days South: Over Sea and Land' and were subsequently invited to speak at COP26 in Glasgow in 2021, sharing their learnings from the 'Pedal 4 Parks' project.
Their journey is a welcome breath of fresh air amongst the barrage of alarming headlines that are becoming more and more regular as we continue into our climate and ecological crisis. We cover a lot of ground in this episode, all the way from the planning, mindset and teamwork that went into completing their epic 'Pedal 4 Parks' mission, all the way to Alex and Issacs's relationship to nature and how it has aided their mental health journeys, plus much more.
They have an infectious passion for projects that create positive sustainability change. I hope you can feel this energy yourself from the episode and nurture it so it grows in your own life.
Sending good energy to you all and I hope you enjoy the podcast. Peace! 
Second Mind Ep.12 - Using Adventure with Purpose to Help Create a Better Society | Isaac Kenyon & Alex Pierrot
The mission:
Second Mind empowers you to become the greatest version of yourself and better our world. To ignite personal growth and intrigue your mind, we showcase the journeys, ideas and mindsets of inspiring people. We broadcast guests who live and think differently to create positive energy for planet Earth. Their messages will challenge your perspectives and give you the fuel to master your potential.  
Don't miss our regular episodes, hit subscribe or follow to see new releases.
FOLLOW SECOND MIND:
Facebook: https://www.facebook.com/secondmind365/
Twitter: https://twitter.com/secondmind365  
Instagram: https://www.instagram.com/secondmind365/  
YouTube (w/video): https://www.youtube.com/channel/UCuq8qBjHyQBsuzB_y4SKWoA
iTunes: https://podcasts.apple.com/gb/podcast/second-mind/id1480389830
Spotify: https://open.spotify.com/show/4IRdfj0CkzK0BeC5WUZKRA?si=HI2ZRTklTsm4AJ831pbS3Q   
Google podcasts: https://playmusic.app.goo.gl/?ibi=com.google.PlayMusic&isi=691797987&ius=googleplaymusic&apn=com.google.android.music&link=https://play.google.com/music/m/Ix6f3niy3hr6xmod664mx5lg4lu?t%3DSecond_Mind%26pcampaignid%3DMKT-na-all-co-pr-mu-pod-16
…or search 'Second Mind' wherever you get your podcasts.
FOLLOW CLIMATE EXPLORERS:
https://climateexplorers.co.uk/
https://www.facebook.com/climateexplorers
https://twitter.com/climateexplorer
https://www.instagram.com/climate_explorers/
https://www.youtube.com/channel/UCGVP7N4RuzpE1NIh_VNEZjA
https://www.linkedin.com/company/climateexplorers/
Mind the Green Space Podcast - https://open.spotify.com/show/1O4EMmOi3XmOjvcqwmHRYX?si=tnLg83LGQ0CC8veIn5Zeww&nd=1
Film: 14 DAYS SOUTH OVER SEA AND LAND - https://kendalmountainplayer.com/programs/pushing-boundaries?categoryId=100934&permalink=14-days-south-over-sea-and-land-b77ec8